Program Manager
ana @ westwinded.com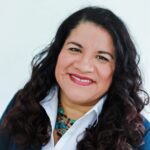 Ana Clymer joined West Wind's team in November 2023 as a Program Manager. Ana previously served as the Cultural Equity Statewide Coordinator with Iowa State University's Child Welfare Research & Training Project in contract with the Iowa Department of Health & Human Services. She has worked for the non-profit sector in Iowa with children, families, and social service organizations since 1999. Throughout her many years in the social services field, she has been an advocate and has focused her work and community efforts on empowering children, youth, and families who have experienced marginalization, under-representation, and adversity in their lives. Ana's unique life experiences and powerful voice have been instrumental in amplifying the voices and empowering individuals who may not have had the same chance to advocate for themselves, ultimately fostering a focus on collaborative efforts to reach more equitable outcomes. Ana was awarded the ISU, Professional & Scientific Council CYtation Award in 2022.
In addition to the work she has done in her profession, Ana is a local activist. She is co-founder and Board member of the Marion Alliance for Racial Equity (MARE) in Marion, Iowa, and a member of the Cedar Rapids Branch of the NAACP. Ana helped to represent MARE on her city's Community Equity Task Force. She promotes youth leadership in MARE, in the Linn-Mar and Marion Independent school districts, and across the community. Ana has been instrumental in the work of the Linn-Mar school district Diversity, Equity, and Inclusion Committee and the MARE education subcommittee, helping bring diverse voices together to work toward a safer and more inclusive learning environment for students and their families. For her exceptional leadership, Ana was awarded the HER Women of Achievement award in 2022.
Ana holds a B.A. in Social Work from The University of Iowa and an A.A. in Liberal Arts from Kirkwood Community College.