Reading Time:
2
minutes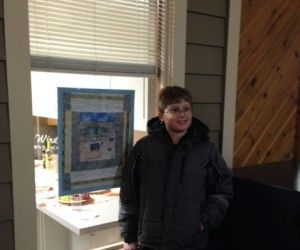 About twice each year we coordinate with a local school to have artwork by their students turn our office walls into our very own art gallery. This month we hung a new batch of work and invited the students and their parents to come by for an art show so we could thank them for letting us brighten our office with their projects.
The current artwork is from Hoover Elementary School in Iowa City. Art teacher, Cerina Wade, had the 6th graders at Hoover do a project based on artist Faith Ringgold's Quilt Stories. Ringgold began making story quilts as a way to have her voice heard and in the hopes that her stories would be published as books. Wade liked having her students create their own quilt stories because they involve a number of creative processes. The students first write a very short story with the understanding that they will need to draw a picture depicting the story too. Once the story is written and drawn it is pieced together with a variety of patterned and colorful paper cut to emulate quilting blocks. The final step is to piece the whole work together.
It has been such a treat to read all of these stories accompanied by the drawings of what the story looked like in the young authors' minds as we walk down our colorful gallery hallway.
You can view this video to see and hear Ringgold discuss the creative process with her most famous quilt story, Tar Beach, which was published as a book.