Local Activism for Equity
on Nov 26, 2013 in
Blog
by
Circe Stumbo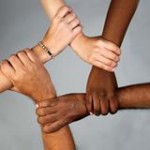 There is an exciting movement under foot in Iowa City, as residents across our community–diverse by race, geography, culture, language, income, and wealth–join together to approach the Iowa City Community School Board tonight.  Earlier in the year, the Calendar Committee, appointed by the superintendent of schools, presented a school year calendar to the school board, which included holding school on the Martin Luther King, Jr., Federal Holiday.  The idea was that the schools would engage in a "Day On" and take part in the national day of service.  However, the calendar committee, the school board, and the superintendent did not realize the sacredness of this holiday for many in our community and the many activities already planned to honor Dr. King and the thousands who worked–many who worked in grave danger–to right the injustices of racism.  Members of our local Coalition for Racial Justice, the Center for Worker Justice, and community residents are asking the school board to reconsider their decision to go with the calendar committee's recommendation.
Alecia Brooks and I are active in the Center for Racial Justice; I have attached the CRJ's letter explaining our position:  CRJ Letter to ICCSD.
We also are challenging the new electronic visitors' management system, which calls on anyone visiting the schools to produce a government issued driver's license or some alternative form of identification–and the combination of identifications offered is odd at best–and then be run through a background check every time you enter the school building.  This is already having a chilling effect in the community, and it is slated to go districtwide January 6.
Though we are not on the agenda for tonight's school board meeting, four representatives will speak during the community comment period at 6 pm to present the school board with actions they must take:
1. Honor the MLK holiday, cancel school that day, and reschedule the activities being planned;
2. Be more inclusive in decision making and as a first step, meet quarterly with the Coalition for Racial Justice; and
3. Put onto the December 10 school board agenda reconsideration of the school calendar for January 20 and the electronic visitors' management system
We hope they will take action!