Reading Time:
4
minutes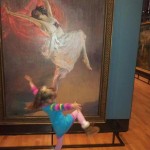 How often do you think to yourself as you are learning something new, "That was interesting."?  Do you ever wonder how often students reflect on a completed lesson, "Hmm, that concept just introduced was interesting."  Or "My homework was pretty interesting today."
Now consider this statement.   "Interesting is good.  But Wonderful is better."
Recently, I had the privilege of attending a presentation by Michael Cassin, Director of the Center for Education in the Visual Arts at the Sterling and Francine Clark Art Institute, Williamstown, MA.[1]  Michael studied art history, painting, and printmaking at the University of Leeds in Great Britain in the London's National Gallery, National Galleries of Scotland. He led their education programs, providing art education for children of all ages and adults. Michael shares his expertise with docent training programs in museums of various kinds around the country, including the Des Moines Art Center. As a docent, I appreciated the opportunity to learn best practices in designing and delivering art tours from this internationally recognized expert.
Mr. Cassin challenged the art docents to be more intentional about designing art tours that go beyond just interesting.  His talk was titled, "Interesting is Good.  But Wonderful is better."
He described a group of tour participants standing in front of a painting or sculpture, with a docent there to provide a bit of help so they could better access the work.  Imagine the docent enthusiastically telling the viewer a lengthy set of facts about the work, details about the artist's life and oeuvre, interpretation about the period, etc. etc. etc.   According to Cassin, this type of tour "SWAMPS the WONDER".  I remember tours were I was the viewer had been swamped by an enthusiastic and well prepared docent who gave an interesting but highly technical and detailed presentation. Were my tours swamping the participants?  Had my workshops as an educator swamped the professionals in attendance? Had my lessons as a teacher swamped the students?
Michael advocates that museums should be gateways to a world of fascination, excitement, and wonder. He shared strategies to help viewers be comfortable, be surprised, and be intrigued. He modeled ways to provide opportunities to investigate. He demonstrated using animation in his voice and an attitude of playfulness.  He set the stage to create a bit of mystery.  I was enticed to be curious.
Open ended questions were structured in a way that invites inquiry and creates a sense of trust.  Michael reminded us to avoid challenging questions that might cause the respondents to feel exposed to being wrong or embarrassed that they don't know something.  His questions fostered real conversations. The plan he established for sharing each painting or sculpture helped the viewer to find connections among the other works being experienced on the tour.
I have been carefully practicing Visual Thinking Strategies with every tour for both children and adults during my docent career.[2] I always try to be engaging and scaffold the participants learning as I build a tour, but there is always more to learn, and applying newly learned strategies from Mr. Cassin's workshop has paid off.
It is extremely satisfying when children are wide eyed, wriggling with excitement to tell me about what they found exciting about the art. I love it when students and adults ask penetrating questions and express curiosity about a painting or sculpture.  I even enjoy it when someone boasts, "That's not art!" and opens the door for a lively dialogue.  I learn something on every tour about the art and about engaging with others about the art.
Delight ­- Wonder ­- Curiosity­ – Mystery ­- Inquiry ­- Surprise
THIS is what I hope for students as they engage with me in tours at the Des Moines Art Center and the Pappajohn Sculpture Garden.  THIS is what I hope for all children in school. Are they experiencing wonder?  Are they working collectively with each other and their teacher to inquire about something that makes them curious or surprised?
Schools must be at least "interesting" as they provide access the Common Core Standards (or the equivalent depending on the state) and provide instruction.  "Interesting" is necessary for students to acquire the thinking skills, oral and written language literacy, visual literacy, and the ability to collaboratively interact with peers.  Many highly skilled teachers are able to design lessons and experiences that draw on the students' sense of imagination and enable students to experience inspiration. Learning at school is a time for students to start finding what they are passionate about and to establish a mindset for learning that they will use their entire life. Special thanks go to those teachers who create learning environments where kids experience the wonderment of learning something new, the satisfaction of solving a complex problem, and the enthusiasm to learn more.[3]
There is no doubt in my mind, WONDERFUL is better.
[1] Des Moines Art Center.  Docent Lecture. (April 3, 2014) . Michael Cassin, Director of the Center for Education in the Visual Arts at the Sterling and Francine Clark Art Institute,  Williamstown, MA,
[2] Visual Thinking Strategies (VTS) is a process that uses teacher-facilitated discussions of art images and is based on over 30 years of on ongoing research by VTS co-founder, Abigail Housen. Housen's doctoral research at Harvard's Graduate School of Education focused on the stages of aesthetic development provided the theoretical foundation for VTS. Founded in 1995, VTS has become a significant art education and critical thinking programs with a national presence. The organization is supported by a small staff, an active national volunteer board, and regional VTS boards.
[3] Schwartz, K. (2014, February 28).  Beyond Knowing Facts, How Do We Get to a Deeper Level of Learning? Mind/Shift.  Retrieved from http://blogs.kqed.org/mindshift/2014/02/how-do-we-create-rich-learning-opportunities-for-all-students/