Reading Time:
3
minutes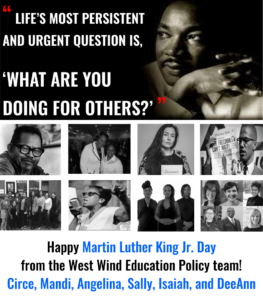 To honor Dr. King's place in history and to acknowledge those who have worked and who continue to work toward racial justice, we are pleased to share these images of activists who inspire us. 
You will notice that some of these images are of leaders who clashed with Dr. King; others are of leaders who never met him. It is important to acknowledge the diversity of philosophies that have guided actions across the years toward the pursuit of racial justice, just as it is important to find ourselves within the legacy of struggle for civil and human rights. We have so much to learn! 
In addition to the image of Martin Luther King, Jr. at the very top, the middle row images, from left to right, include the following leaders: 
Larry Itliong: A Fiilipino-American labor leader who organized for worker's rights, Larry Itliong helped launch the Delano grape strike in 1965 to stop the exploitation of farm workers. A multilingual organizer, Itliong was a key leader for the rights of workers and of Filipino Americans. It is worth searching for varying articles about Itliong; this one in the Smithsonian Magazine is nice because of the many recognitions and links to additional resources: Why It Is Important to Know the Story of Filipino-American Larry Itliong.  
Rev. Dr. Bernice King and Kamil Hodges: Bernice King is daughter of Martin Luther King Jr. and Chief Executive Officer of the King Center, who continues to work as a fierce advocate for nonviolence, education, and equality.  Kamil Hodges was a student leader in Iowa City when this picture was taken in 2013; you can read out her experiences and those of her peers in this series of blog posts written earlier that year: FasTrac: Iowa City Civil Rights Tours.
Malcom X: A black Muslim leader of the civil rights movement and supporter of equality and black pride, Malcom X, also known as El-Hajj Malik El-Shabazz, did not always agree with Martin Luth King, Jr., but they each respected the other. Both were key leaders for racial justice and both were assassinated at the young age of 39. 
Christine Nobiss: As Plains Cree-Saulteaux, Christine speaks and writes about the importance of bringing Indigenous voices and practices back into our economic, environmental, and societal arenas. She is she a Decolonizer with Seeding Sovereignty and founder of Indigenous Iowa.
The bottom row of images, from left to right, include the following:
C.H.U.L.A.:  The City High United Latina Association (CHULA) exists to cultivate self-awareness and vision while honoring culture among CHS' Latina leaders of tomorrow (in Iowa City, Iowa).  This photo was taken as members of CHULA reflected on "The Hate U Give" and heard from members of the University of Iowa Hispanic and Latinx Law Student Association (HLLSA) in 2018.  
Ella Baker: As an African American organizer and political activist, she helped lead the movements for human and civil rights. The 1998 biography, Ella Baker: Freedom Bound, was especially compelling to West Wind's president and holds a prominent place in her bookshelf. Prior to this biography, there had not been such a full telling of Baker's life and legacy; thankfully, there have been many since. Baker was "primarily responsible for the organization that grew out of the Montgomery bus boycott of 1955-56, but her most significant contribution to the civil rights struggle was SNCC…. She is also an important figure because she constantly fought to make the voice of the ordinary person heard" (Grant, 1998, page 5).  
Black Lives Matter Co-Founders Alicia Garza, Opal Tometi, and Patrisse Cullors: These women instigated a powerful movement in response to police violence and systemic racism against black people. This picture is shared with permission and was originally posted in this article: The Founders of Black Lives Matter: We Gave Tongue To Something That We All Knew Was Happening. 
West Wind Education Policy Team: We (Circe Stumbo, Mandi Bozarth, Angelina Ramirez, Sally Denison, Isaiah McGee, and DeeAnn Grove) are proud to work toward racial equity by helping leaders imagine and enact school systems that overcome historic and persistent inequities and engage each and every child in learning. We truly have much to do in order to live up to the legacy of those who came before us. We hope you will join us in this important work!