Reading Time:
2
minutes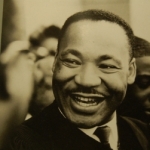 Everybody can be great, because anybody can serve.
Martin Luther King, Jr.
In 1983 legislation was signed declaring the third Monday in January Martin Luther King, Jr. Day.  In 1994 Congress designated MLK Day as a national day of service and charged the Corporation for National and Community Service, a federal agency, with leading the effort.  Founded in 1993, the Corporation for National and Community Service's purpose is to "connect Americans of all ages and backgrounds with opportunities to give back to their communities and their nation."  This agency manages the SeniorCorp (2009), and AmeriCorp (1993) programs.
MLK Day of Service organizers often refer to the call to service as an attempt to establish  a "day on, not a day off" that can encourage Americans from various sectors of society to work together  to build community and find solutions to social problems.
This year West Wind staff members are proud to participate in this effort.  Here is what we will be up to:
Circe and Valerie and their children:  During our Presidential Inauguration trip with students from the FasTac program, we will take Saturday to participate in one of two events.  Some of us will work with the  Citywide Foodbank at Trinity Washington University to support ten DC food pantries by packaging food for families in need.  Others of us will assist veterans and military families as they assemble 100,000 care kits with assorted items for U.S. service members deployed overseas, Wounded Warriors, and Veterans and First Responders.
Sally and Pamela:  Sally will participate in a program called Shelter From the Storm where people of all ages are welcome to make quilts, assemble toiletry kits, knit hats & mittens and bake at Trinity Episcopal Church in Iowa City.  Sally's partner Pamela will participate in the Salvation Army & HyVee food drive collecting food.
Mandi and her family:  They will participate in the Salvation Army & HyVee food drive.
Deb: She will join a group of neighborhood Obama campaigners to donate children's books to Reading is Fundamental in Des Moines, and formulate a group project that goes beyond a single day event.
What are YOU doing in your own community?