West Wind Open House (Postponed)
on Feb 02, 2015 in
Blog
by
Alecia Brooks
Due to the winter storm, we postponed our annual Open House, which had been scheduled for February 2. We'll post the new date at this website and send an announcement via email.
We look forward to sharing with you some of our new work, including our collaboration in the Creative Corridor Center for Equity (C3E). We're plugging away at our first initiative, titled the Black and Brown Educator Recruitment and Retention (BBERR) project. BBERR is an impressive program that attracts and retains talent of color from Iowa and across the nation to schools in Waterloo and the creative corridor. In addition to the Center for Equity, we've also launched a new program around Competency Based Education, headed by staff memeber Mandi Bozarth. She'll work with leaders in Iowa and the Midwest to develop and disseminate resources about competency-based learning. These are certainly exciting developments, and we look forward to sharing the latest news of our work with you.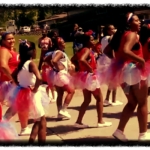 We'll also enjoy a performance from Unified Youth Drill Team. Pictured are a few of the ladies when they performed at the City of Coralville's July 4th parade. Unified Youth is one of several drill teams in Iowa City that ask for support from community members. The young ladies who perform with the Dream Divas, a dance team located at the Dream Center, currently seek donations to fund their performance expenses. Read more about the team and where you can donate HERE.
We strive to live up to the spirit embodied by the Ferguson, Missouri, Public Library staff when they stayed open to serve their youth following the Michael Brown grand jury decision. Their commitment and their charge: We will do everything in our power to serve our community. Stay strong and love each other.
Help us live up to that charge by joining us at our annual Open House!
Kind regards from the staff of West Wind Education Policy Inc, Circe, Alecia, Bonnie, Kathy, Mandi, Sally, and Tina!