Reading Time:
3
minutes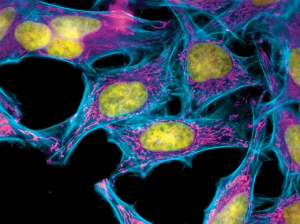 I just read the New York Times best-seller "The Immortal Life of Henrietta Lacks." Henrietta Lacks was a black woman treated for cervical cancer at John Hopkins in the early 1950s. It was during this treatment that her cancer cells were taken without her knowledge, grown in a laboratory, and sold to scientists around the globe. Henrietta died in 1951 at the age of 31, but her cells, known to scientists as HeLa, live on in laboratories and medical schools around the globe. HeLa was vital to the development of the polio vaccine, cloning, gene mapping, in vitro fertilization, and much more. In 1996, Roland H. Pattillo, M.D., a professor in the Department of Obstetrics and Gynecology of Morehouse School of Medicine, began the annual HeLa Women's Health Conference, and the BBC filmed  part of its documentary "The Way of All Flesh" at the event. Yet, before this book, her family was virtually unknown to the general public and could not afford health care that would give them access to the medical advances their own mother made possible.
While the book could have easily been couched as a "historical" account, white, female author Rebecca Skloot carefully demonstrated the very real, very contemporary significance of the story. As noted on the author's website: "The Immortal Life of Henrietta Lacks tells a riveting story of the collision between ethics, race, and medicine; of scientific discovery and faith healing; and of a daughter consumed with questions about the mother she never knew. It's a story inextricably connected to the dark history of experimentation on African Americans, the birth of bioethics, and the legal battles over whether we control the stuff we're made of." In fact, the last chapter of the book describes the yet unsettled legal context in which these debates continue.  I hope we can expect the same treatment by the Oprah Winfrey/Alan Ball HBO movie being made.
I was especially impressed with the author's continuing commitment to Henrietta Lacks' family and to others like them. The author founded the Henrietta Lacks Foundation. According to the foundation website: "The Henrietta Lacks Foundation strives to provide financial assistance to needy individuals who have made important contributions to scientific research without personally benefiting from those contributions, particularly those used in research without their knowledge or consent. The Foundation gives those who have benefited from those contributions — including scientists, universities, corporations, and the general public — a way to show their appreciation to such research subjects and their families. The Foundation has already awarded 19 grants, including grants covering tuition and book expenses, health care expenses and emergency needs of multiple members of her immediate family. The Foundation's goal is to continue to help the Lacks family as well as others with similar needs who may qualify, such as descendants of research subjects used in the famous Tuskegee Syphilis Studies, those injected with sexually transmitted diseases without their knowledge by the US Government, and others. To be eligible for a grant, an applicant must prove financial need and have made, or be the descendant of someone who has made, a significant contribution to scientific research as a research subject, including those who have unwillingly or unknowingly been used in research or contributed biological materials for research."
This book will change how you think about race, medicine, science, and your own control of your body.  Not only it is a must read, but I believe it is an example of responsible and ethical storytelling with and for the people whose stories are being told.