Reading Time:
3
minutes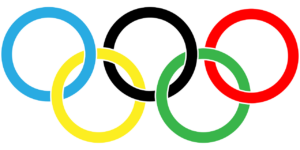 I have easily watched more television since the Olympics began on July 27 than I have since July of last year. It is so easy to just keep watching event after event. The command athletes have over their sports, their bodies, and their minds is evident and addictive to watch and think about. But, the actual competition is only part of the story and only part of what keeps me roped in.
The moment by moment commentary by sportscasters, opinions from former Olympians turned analysts, heartfelt biographical interviews of the athletes filmed in their homes and hometowns, and commentary across every form of mass and social media is astounding in volume and content.
Through its coverage the media has done an amazing job of evoking feelings of pride, awe, nostalgia, and inspiration. They have also evoked feelings of sadness, anger, and confusion in me. One of the storylines that is particularly bothersome has to do with gymnast Gabby Douglas, who is from Virginia but lives and trains in Iowa. Ms. Douglas is a 16-year-old who just achieved the pinnacle of her career. She made history twice over by becoming the first African American woman to win gold in the all-around and by becoming the first American to win gold in both the team and individual all-around. Running just as strong as the accolades and much deserved prideful coverage of her achievements, is widespread coverage of Ms. Douglas' hair. Instead of joyously focusing on her great feat both Ms. Douglas and her mother are defending  Ms. Douglas' reportedly "unkempt ponytail" and criticisms that her hairstyle is "too white." And today I saw a clip from Fox news where they used Ms. Douglas' leotard as an example of how the American team is softly displaying anti-American sentiments; because the leotard is pink, not red, white, and blue.
Is Ms. Douglas being picked on because she is black?
I know that black female hair has complex social history and meaning; and I understand that much of the criticism coming from black women is coming from a place of pride in wearing their own hair naturally. Still, I wonder how that criticism helps or at the very least does not harm, the young woman at whom it is directed. Regarding the messy ponytail, is she being held to a different standard than her teammates who are all sporting the very same style? And, why did Fox news use Ms. Douglas' image in her pink leotard as their main focus during their anti-American commentary when so many of our Olympic teams have left their patriotic colors out of their competition attire– the entire swim team (men and women) is wearing black, and the medal podiums all over London have been graced daily by American athletes in gray track suits?
I don't know the answers but I do know there are complexities raised in Olympic media coverage and the chatter via social media that accompanies it, that warrant thought and discussion. I continue to think about and talk with people about my reactions to this coverage in hopes that I can formulate some of my own commentary that will be compelling enough to give pause to someone should they concur with the critics that Ms. Douglas needs a new do.