Reading Time:
3
minutes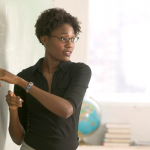 This blog by Deb Hansen, Senior Policy Analyst, West Wind Education Policy, was written for the Council of Chief State School Officers' (CCSSO) State Consortium on Educator Effectiveness (SCEE). This two-part blog series provides information about Recruiting and Retaining Diverse Personnel, a new Hanover Research report, that explores state and national demographic trends that contribute to minority teacher shortages and shares practices and recommendations for recruiting and retaining teachers of color. SCEE leaders who are responsible for maintaining a qualified and diverse workforce will be interested in this review of recent literature and analysis of data that describe the diversity context in K-12 education systems and policy strategies for addressing shortages of minority educators in the United States. Examples of key findings about the minority teacher deficit, as stated in the report are:
The U.S. teaching force does not reflect the student body, with the proportion of minority students exceeding the proportion of minority teachers by nearly 25 percentage points.
The growth of the minority teacher deficit over the past 20 years can be attributed to both an increasing number of minority students and a decreasing number of white students in U.S. schools.
Teachers of color are more likely to be employed at high minority, high poverty, and urban schools than they are at more homogenous, affluent, and suburban campuses.
States and districts have put various policies and practices into place to recruit and retain teachers of color, in response to concerns about the "minority teacher gap". According to analyses by Ingersoll and May (2011), minority teacher recruitment efforts in the U.S. have yielded some positive results, but the teaching workforce became only slightly more diverse, increasing from 12.4 percent (1987-88) to16.5 (2007-2008) percent minority teachers in the US.[1] The issue of retention is of particular concern to district leaders and policy makers. High rates of minority teacher turnover have negated recent recruitment efforts, in some contexts. Findings suggest that the turnover rate for teachers of color has substantially increased since the 1988‐99, and has generally remained higher than for white teachers.  Certification exams have been found to be a barrier – analysis of passage rates for Praxis I indicated that minority test-takers scores are significantly behind white test-takers in all components of the exam.  The report's authors suggest there is growing consensus that most certification and licensure exams contain biases and may not provide states with an "impartial" measure of prospective teacher quality. Researchers are finding positive correlations between the implementation of alternative certification options and the extent of representation of teachers of color in the educator workforce.  SCEE leaders should take note of the findings that those states with authentic alternative certification policies had higher proportions of minority teachers in the workforce and tended to show more rapid student improvement on the NAEP exam, with achievement gains being most profound for African American students (Nadler & Peterson, 2009).[2] Part 2 of the blog series will highlight some of the report's recommendations for recruiting and retaining teachers of color and lessons learned from the Denver Public Schools, Des Moines Public Schools, and Corvallis School District. [1] Ingersoll, R.and May, H."Recruitment, Retention, and the Minority Teacher."The Consortium for Policy Research in Education, University of Pennsylvania. 2011.p. 9 [2] Nadler ,D.and Peterson ,P."What Happens When States Have Genuine Alternative Certification?" op cit.