Reading Time:
2
minutes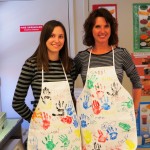 I just tweeted my thanks to teachers for this years' Teacher Appreciation Week. Reflecting on the various blogs, tweets, and articles in the news that comment on the importance of teachers and praised teachers for their professionalism and dedication, I found them to be a bit de rigueur. I agree that teachers are essential to improved student learning. No doubt, there are many dedicated and passionate teachers in the workplace. Teachers should be recognized for their professionalism and the work they do. I suggest that acknowledging the work of teachers should be more explicit and action oriented. Volunteer in a classroom! Help a teacher with the tasks that allow them to spend more time with students.
Every Monday afternoon, I volunteer in my neighborhood Head Start Program taught by Sandra Ries-Wandrey. Sandra uses her instructional skills and her passion for teaching to provide rich learning experiences for her students. Jill McDowell, teacher associate, supports the class in countless ways to ensure a safe and healthy environment where children thrive. Their talents, enthusiasm, stamina, and commitment should be recognized this week.
As a volunteer, I facilitate small groups at center time, read to students, help students with limited English with learning vocabulary, and chat with children during snack time to build their language development. Perhaps the most helpful tasks I perform are zipping zippers, finding the left boot, fixing droopy barrettes, blowing an occasional nose, and preventing kids from going down the slide two-at-a-time. Now that I think about my days at Head Start, what the teacher appreciates the most is help transitioning 17 busy little bodies between the bathroom and the sink. Forty hands, running water, foaming soap, a highly entertaining electronic paper towel dispenser, and plenty of fun to be had wriggling around while you wait your turn – got the picture? Some children know the routines, some don't, but all of them love to play in the sink. Not to overgeneralize, but boys don't lift the seat, accuracy in the bathroom is a skill yet to be acquired, and zipping a fly when your pants are too small can be pretty demanding. The teacher and I now have a tag team strategy to move our little charges smoothly through the tooth brushing, hand washing, and bathroom sequence. We both breathe a deep sigh of satisfaction when all 17 are on their carpet square ready for book-time.
That's how to thank a teacher!
To learn more about volunteering at the Drake University Head Start program go HERE.
For more ideas how to volunteer in a classroom, go HERE.