BE BOLD
on Jul 08, 2013 in
Blog
by
Deb Hansen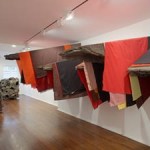 Have you ever noticed that when you are deeply interested in something, you find ideas about that interest where you aren't expecting to find them and when you aren't intentionally seeking that information?  If you are open to learning something new, then ideas come to you from sources and settings that may be surprising. I often find myself making connections among concepts from experiences and sources that have little to do with my work. My professional interests in exploring ways to help educators learn new knowledge and skills has launched an ongoing inquiry about collaborative processes for learning that yields discoveries outside the usual places I go to acquire information.
A new exhibit just opened at the Des Moines Art Center, and as a volunteer docent, I am expected to study the new works being presented and become familiar with biographical information about the featured artist. Sculptures and paintings by Phyllida Barlow were just installed this week, and I spent a few hours reading about her work in art journals. Ms. Barlow was interviewed about her career as an artist and a teacher at the Slade School of Fine Art and other art programs in England. When the journalist asked her about teaching art to groups of students, Ms. Barlow responded, "A group offers up a diversity of responses which come from the students, where disagreements can open up the complexity of the discussion and not close it down with a single point of view. Also, I think group teaching can disrupt moral judgments, for example  about hard work, or political correctness, as well as creative judgments, and develop a more investigative approach."
Phyllida's comment made me curious about what a group discussion in her class would sound like when participants disagreed and interactions among peers disrupted moral judgements and stimulated creativity. I imagine the group discussions were energetic, intense, challenging, and maybe a bit uncomfortable for some – just like Phillida's bold, colorful, dynamic, but also ambiguous art.
I reflected on the education groups I have either organized or been a member of.  Did members engage at a level of intensity where ideas were overtly challenged and deep investigations of complex issues occurred? Yes, in a few instances, we educators wrestled frankly, authentically, and fervently about a vexing problem. When this occurred, the energy was high, time seemed to fly by, and the outcomes (in my opinion) were stronger for the passionate exchange of ideas.  But too often, I found discussions among fellow educators were contained, very polite, and a bit drab.
Professional learning teams, communities of practice, and other structured groups aim at building capacity by using collaborative group learning opportunities. One reason for combining individuals into groups is to stimulate the quality of the interaction by drawing on a range of interests and points of view. Some groups are intentionally formed to include diverse representation to ensure that differing ideas are generated.
It is human nature for people with multiple perspectives to experience creative tension and, in some cases, conflict. I noticed when engaging in team processes, as both a participant and a facilitator, that group members often shy away from discussions that involve controversy, emotionally-ladened issues, and argument. To some participants "argument" connotes fighting or squabbling. But the process of argument, when managed, can be productive and yield greater outcomes than a tidy and less energetic interaction.
According to Merriam-Webster, another meaning for the word "argument" is to give reasons in proof or rebuttal, to engage in discourse intending to persuade, or to offer a coherent series of statements leading from a premise to a conclusion. An argument can be something healthy and highly productive in the work of teams, but it seems to have become a negative experience to be avoided by overly polite adults.
Expert sources offer strategies and protocols for facilitators to use with teams to encourage active listening to disparate opinions, critical examination and analysis of issues, and use of explicit problem solving cycles. Garmston, Wellman, Senge, Hord and other authors have published norms for collaboration, processes for building consensus, and techniques for defusing conflict.
A great facilitator can move a group through turbulent discussions, but it is up to the group to be willing to take some risks by addressing some tough problems. It takes at least one brave soul to launch a highly charged discussion or ask those hard-to-answer questions that stimulate deep thinking. It takes a second person to take some risk and engage in the exchange. It takes the full group to provide the space for meaningful and respectful listening, sharing of ideas, and probing questioning.
It may be easier to play it safe, to avoid being vulnerable, and to keep the conversation about topics that won't rock the boat. Conviviality is comfortable, but conviviality will not get the same results as true collaboration. The next time you are in a professional discussion about something important to you, think about what class with Phyllida Barlow would be like.
Be bold. Be creative. Take the risk.
Go after the hard problem, raise the unasked question, start the investigation. You and your peers will learn more.
References
Garmston, R., and Wellman, B. (1999). The Adaptive School: A Sourcebook for Developing Collaborative Groups.Norwood, MA: Christopher-Gordon Publishers.
Godfrey, M. (February 9, 2006) . Learning experience. Frieze Magazine. London. Retrieved from http://www.frieze.com/issue/print_article/learning_experience
Hord, S. and Sommers, W. (2008) Leading professional learning communities; Voices From Research and Practice. Corwin
Senge, P. (1990) The fifth discipline : the art and practice of the learning organization. New York, NY: Doubleday/Currency.
http://www.desmoinesartcenter.org/exhibitions/PBARLOW-SCREE.aspx