2015 Martin Luther King Day of Service
on Jan 16, 2015 in
Blog
by
Mandi Bozarth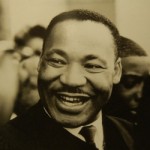 "Let us all hope that the dark clouds of racial prejudice will soon pass away and the deep fog of misunderstanding  will be lifted from our fear drenched communities, and in some not too distant tomorrow the radiant stars of love and brotherhood will shine over our great nation with all their scintillating beauty."
              — Martin Luther King, Jr., Letter from a Birmingham Jail
This Monday communities will come together to celebrate the life of Dr. Martin Luther King, Jr. and to take part in service to others in the name of justice and equality.  This past year we have continued to see prejudice and injustice spur fear and divide our communities.  We have also seen strong black leadership across the country and in our own communities speak out to guide us toward justice.
This Martin Luther King Day will be a day to reflect on struggles for equality and to celebrate local black leaders dedicated to issues ranging from education and criminal justice to city policies, family programming, youth -development, and many other areas.
If you are in Iowa City please join one of the many MLK Day of Service events.
1st Annual Bell Ringing & Candle Lighting Award Ceremony: 19, 11:00 am to 3:00 pm.  Bell ringing ceremony, recognition awards for local leadership, education programs, entertainment, and food.  Families are welcome and encouraged to come!
Visit the Coalition for Racial Justice on Facebook for event listings and invitations:
Sunday, Jan. 18, 7:00 pm: Annual Martin Luther King, Jr., Interfaith Celebration (sponsored by the Consultation of Religious Communities) at St. Mark's United Methodist Church, 2675 E. Washington St. Pastor Tony Smith of New Creations Church will read an excerpt from Dr. King's speech, The Casualties of the War in Vietnam, and Kingsley Botchway will deliver the keynote address.
The University of Iowa has compiled a list of community events HERE. The list includes events through February.  Here are a few highlights for families:
Food Drive at local Hy-Vee stores
Unity March on Pentacrest from 3:30 pm to 4:00 pm
Celebrations at the Bethel African American Methodist Episcopal Church from 2:00 pm to 3:30 pm
The Iowa City Community School District planned activities for students and families as well. Click HERE to view the full list of activities.
If you are outside Iowa City, check your local city events pages, local churches, organizations, and schools for opportunities to volunteer or celebrate.